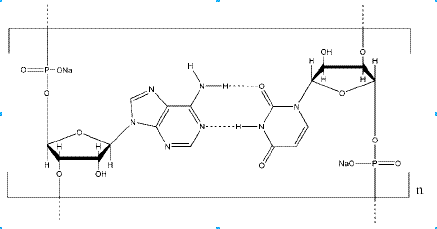 Polyadenosinic – Polyuridinic acid sodium salt CAS 24936-38-7
CAS Number(Or Ulcho Number for Non-CAS Products): 24936-38-7
Product Name: Polyadenosinic – Polyuridinic acid sodium salt
Synonyms: Poly A:U sodium salt
Molecule Formula: (C19H21N7O14P2Na2)n
Molecule Weight: 679.4
EINECS:
Appearance: White to off-white powder
Solubility: Freely soluble in water, insoluble in ethanol and ether.
IR: Under the condition of PH7.2,A250/A260=0.80 – 0.90,A280/A260=0.32-0.42,A290/A260=0.04-0.14,Lambda max= 257nm+-2nm,Lambda min= 231nm+-2nm.
Purity: 85%min
Use: 1. The product is a synthetic
interferon inducer,it is similar to PolyI:C in enhancing the immune function of
lymphocytes.It has high efficient induction of interferon,inhibiting the replication of
the virus which has been infected,enhancing phagocytic activity, improving immune
function, and promoting human non-specific immune function and certain specific
immune function to anti-liver cell necrosis and anti-tumor effect and so on.
2. It can be used in viral infectious
diseases and cancer adjuvant therapy, clinical application in chronic viral hepatitis,
herpes, warts, common warts, viral keratitis and so on.
Package: 1kg
Storage: Preserve in tight containers,in a freezing place.