Custom Synthesis Service
Although ULCHO offers many Carbohydrates, Nucleotides and Nucleosides available from stock, your project may require a product not listed in our catalogue.
Then contact our custom synthesis team and ask for an offer. Let our experienced scientists prepare the exact product you need.
Expertise: Our chemists can prepare compounds according to your specifications in any scale you need – from milligram to kilogram and ton quantities. We are experts in producing complicated Carbohydrates and difficult Nucleotides.
Quality: ULCHO is committed to using synthesis and purification strategies that yield products of the quality and purity you require. ULCHO sets industry standards for high quality custom synthesis.
Efficient service: Our custom synthesis techniques in combination with high capacity and state-of-the-art production equipment allow short delivery times without compromising quality. You will get technical support with the design of your products and complex organic molecules. If you need a custom Carbohydrate or Nucleotide, please challenge us with your ideas and take advantage of our expertise.
Carbohydrate
ULCHO can professionally offer custom synthesis of carbohydrates, such as carbohydrate-based intermediates, carbohydrate-based drugs and glycosidase substrates, with good quality, competitive prices and fast delivery.
ULCHO can supply carbohydrate-based building blocks including glycosyl halides, thioglycosides, amino sugars, glycals, deoxy derivatives, uronic acid derivatives, alditols, acetal derivatives, alkyl glycoside detergents, oligosaccharides, carbohydrate-based drugs, and so on. Our some featured products are as follows.
Thioglycosides: Isopropyl-β-D-thiogalactopyranoside, Ethyl-β-D- thiogalactopyranoside
Glycals: 3,4,6-Tri-O-acetyl-D-galactal, 3,4,6-Tri-O-benzyl-D-glucal
Acetates: β-D-Galactosamine pentaacetate, β-D-Glucosamine Pentaacetate, α-D-Mannose pentaacetate
Uronic acid derivatives: L-galactono-1,4-lactone, L-Gulono-1,4-lactone
Acetal derivatives: 2,3:5,6-Di-O-isopropylidene-α-D-mannofuranose, 1,2:3,4-Di-O-isopropylidene-α-D-galactopyranose, 1,2-O-Isopropylidene-α-D-xylose, 1,2:5,6-Di-O- isopropylidene-α-D-allofuranose, Methyl 4,6-O-benzylidene-α-D-glucopyranoside
Benzylated derivatives: 2,3,4,6-Tetra-O-benzyl-D-galactopyranose, 2,3,4,6-Tetra-O- benzyl-D-mannopyranose
Glycosyl halides: Acetobromo-α-D-glucose, Acetobromo-α-D-galactose, 2-Fluoro-2- deoxy-D-glucose
Carbohydrate-based drugs: Tribenoside, Teniposide, Auranofin
Other: n-Octyl-β-D-glucopyranoside, n-Octyl-β-D-thioglucopyranoside, n-Dodecyl-β-D-maltoside, 6-deoxy-D-glucose, Ethyl-β-D-glucuronide, 5-Thio-D-glucose
We also offer a range of 4-methylumbelliferyl, nitrophenyl, indolyl, naphthyl and other glycosidase substrates.
Nucleotide
We can do
Natural nucleotides and modified analogues, such as non-hydrolyzable derivatives, nucleotides containing fluorescent groups or halogen atoms and much more.
Libraries of Nucleotide analogues for drug screening and nucleotide kits for a plethora of applications
Modified nucleoside analogues (i.e. nucleobase linked to a sugar moiety but lacking the phosphate groups)
Phosphoramidites used to synthesize oligonucleotides by automated standard protocols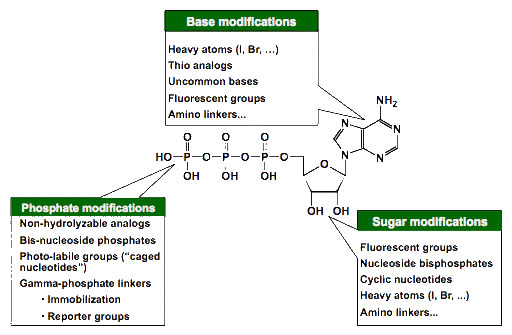 In addition, with our pre-made building blocks and in-house expertise we manufacture even the most exotic nucleotide analogue from the mg to kg scale in a Custom Synthesis.
[si-contact-form form='1′]