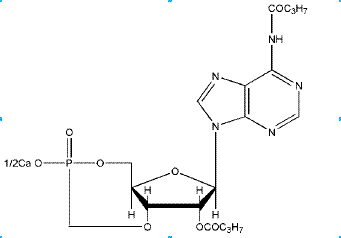 Bucladesine calcium salt CAS NNA-0004
CAS Number(Or Ulcho Number for Non-CAS Products): NNA-0004
Product Name: Bucladesine calcium salt
Synonyms: DB-cAMP.Ca
Molecule Formula: C18H23CaN5O8P2.3H2O
Molecule Weight: 549.9
EINECS:
Appearance: Yellowish powder
Solubility: Freely soluble in water and ethanol, insoluble in ether.
IR:
Purity: 95%,98%
Use: 1. This product is a derivative of cyclic
adenosine monophosphate, which is a protein kinase activator. The permeability of
cell is stronger than adenosine cyclophosphate, and can fight the phosphodiesterase
degradation of the body, make the effect more durable and rapid. can improve
myocardial ischemia, coronary dilatation, enhanced myocardial contractility,
increase cardiac output and so on. Clinically available for angina, adjuvant
treatment of acute myocardial infarction,also can be used for myocarditis,
cardiogenic shock, subretinal hemorrhage and psoriasis after surgery, and can assist
with other anticancer drugs to treat leukemia.
2. This product can
promote the secretion of growth hormones, insulin-like growth factor, thyroid
hormone in animal blood,to promote protein synthesis and can obviously promote
animals growth, can significantly improve daily gain and lean meat percentage of
the growing pigs. Also can improve lipase activity, regulating fat metabolism,
promote growing and finishing pigs lipolysis, reducing fat deposition, improve the
porcine carcass and meat quality.
Package: 1kg
Storage: Preserve in tight,light-resistant containers,in a cool place.