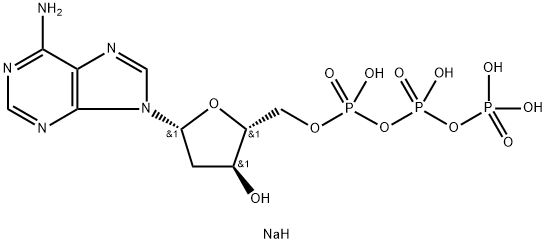 2′-Deoxyadenosine-5′-triphosphate Trisodium Salt CAS 54680-12-5
Identification
CAS Number
54680-12-5
Name
2′-Deoxyadenosine-5′-triphosphate Trisodium Salt
Synonyms
2′-Désoxy-5′-O-[({[(hydroxyphosphinato)oxy]phosphinato}oxy)phosphinato]adénosine de trisodium [French] [ACD/IUPAC Name]
Adenosine, 2′-deoxy-, 5′-(tetrahydrogen triphosphate), sodium salt (1:3) [ACD/Index Name]
Trinatrium-2′-desoxy-5′-O-[({[(hydroxyphosphinato)oxy]phosphinato}oxy)phosphinato]adenosin [German] [ACD/IUPAC Name]
Trisodium 2′-deoxy-5′-O-[({[(hydroxyphosphinato)oxy]phosphinato}oxy)phosphinato]adenosine [ACD/IUPAC Name]
2′-Deoxyadenosine-5′-triphosphate trisodium
2′-Deoxyadenosine-5′-triphosphate trisodium salt
54680-12-5 [RN]
TRISODIUM DATP TRIANION
SMILES
c1nc(c2c(n1)n(cn2)[C@H]3C[C@@H]([C@H](O3)COP(=O)([O-])OP(=O)([O-])OP(=O)(O)[O-])O)N.[Na+].[Na+].[Na+]
StdInChI
InChI=1S/C10H16N5O12P3.3Na/c11-9-8-10(13-3-12-9)15(4-14-8)7-1-5(16)6(25-7)2-24-29(20,21)27-30(22,23)26-28(17,18)19;;;/h3-7,16H,1-2H2,(H,20,21)(H,22,23)(H2,11,12,13)(H2,17,18,19);;;/q;3*+1/p-3/t5-,6+,7+;;;/m0…/s1
StdInChIKey
VEESQMCFNINIMU-PWDLANNDSA-K
Molecular Formula
C10H13N5Na3O12P3
Molecular Weight
557.127
Properties
Appearance
Clear colorless solution
Safety Data
RIDADR
NONH for all modes of transport
WGK Germany
3
Specifications and Other Information of Our 2′-Deoxyadenosine-5′-triphosphate Trisodium Salt CAS 54680-12-5
Identification Methods
HNMR, HPLC
Purity
99% min
Λmax
260nm±2nm
Absorbance Ratio(pH7.5)
A280/A260: 0.13-0.18
A250/A260: 0.75-0.81
pH(22-25℃)
7.4±0.1
31p NMR(D20)
To conform structure
Concentration
100mM±3
Shelf Life
2 years
Storage
Please store in -20℃. Always avoid freeze-thaw cycles or exposure to frequent temperature changes. These fluctuations can greatly alter product stability.
Known Application
It is a kind of nucleotide used for DNA synthesis or replication in cells; it is also a substrate of DNA polymerase.
Links
This product is developed by our R&D company Watson International Ltd (https://www.watson-int.com/).