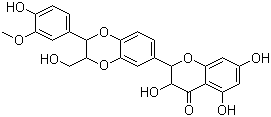 Silymarin flavonolignans CAS 65666-07-1
Identification
CAS Number
65666-07-1
Name
Silymarin flavonolignans
Synonyms
(2R,3R)-3,5,7-Trihydroxy-2-[(2S,3S)-3-(4-hydroxy-3-methoxyphenyl)-2-(hydroxymethyl)-2,3-dihydro-1,4-benzodioxin-6-yl]-2,3-dihydro-4H-chromen-4-on [German] [ACD/IUPAC Name]
(2R,3R)-3,5,7-Trihydroxy-2-[(2S,3S)-3-(4-hydroxy-3-methoxyphenyl)-2-(hydroxymethyl)-2,3-dihydro-1,4-benzodioxin-6-yl]-2,3-dihydro-4H-chromen-4-one [ACD/IUPAC Name]
(2R,3R)-3,5,7-Trihydroxy-2-[(2S,3S)-3-(4-hydroxy-3-méthoxyphényl)-2-(hydroxyméthyl)-2,3-dihydro-1,4-benzodioxin-6-yl]-2,3-dihydro-4H-chromén-4-one [French] [ACD/IUPAC Name]
(2R,3R)-3,5,7-Trihydroxy-2-[(2S,3S)-3-(4-hydroxy-3-methoxyphenyl)-2-hydroxymethyl-2,3-dihydrobenzo[1,4]dioxin-6-yl]-4-chromanone
(2S,3S)-2,3-Dihydro-3-(4-hydroxy-3-methoxyphenyl)-2-(hydroxymethyl)-6-[(2R,3R)-3,5,7-trihydroxy-4-oxobenzopyran-2-yl]benzodioxin
4H-1-Benzopyran-4-one, 2-[(2S,3S)-2,3-dihydro-3-(4-hydroxy-3-methoxyphenyl)-2-(hydroxymethyl)-1,4-benzodioxin-6-yl]-2,3-dihydro-3,5,7-trihydroxy-, (2R,3R)- [ACD/Index Name]
65666-07-1 [RN]
853OHH1429
MFCD18827498
SILIBININ B
silybin B
Silymarin [Wiki]
Silymarin + Melatonin
(2R,3R)-3,5,7-trihydroxy-2-((2S,3S)-3-(4-hydroxy-3-methoxyphenyl)-2-(hydroxymethyl)-2,3-dihydrobenzo[b][1,4]dioxin-6-yl)chroman-4-one
(2R,3R)-3,5,7-trihydroxy-2-[(2R,3R)-2-(4-hydroxy-3-methoxyphenyl)-3-(hydroxymethyl)-2,3-dihydro-1,4-benzodioxin-7-yl]-4-chromanone
(2R,3R)-3,5,7-trihydroxy-2-[(2R,3R)-2-(4-hydroxy-3-methoxyphenyl)-3-(hydroxymethyl)-2,3-dihydro-1,4-benzodioxin-7-yl]chroman-4-one
(2R,3R)-3,5,7-trihydroxy-2-[(2R,3R)-2-(4-hydroxy-3-methoxy-phenyl)-3-(hydroxymethyl)-2,3-dihydro-1,4-benzodioxin-7-yl]chroman-4-one
(2R,3R)-3,5,7-trihydroxy-2-[(2R,3R)-2-(4-hydroxy-3-methoxy-phenyl)-3-methylol-2,3-dihydro-1,4-benzodioxin-7-yl]chroman-4-one
(2R,3R)-3,5,7-trihydroxy-2-[(2S,3S)-2-(4-hydroxy-3-methoxyphenyl)-3-(hydroxymethyl)-2,3-dihydro-1,4-benzodioxin-7-yl]-4-chromanone
(2R,3R)-3,5,7-trihydroxy-2-[(2S,3S)-2-(4-hydroxy-3-methoxyphenyl)-3-(hydroxymethyl)-2,3-dihydro-1,4-benzodioxin-7-yl]chroman-4-one
(2R,3R)-3,5,7-trihydroxy-2-[(2S,3S)-2-(4-hydroxy-3-methoxy-phenyl)-3-(hydroxymethyl)-2,3-dihydro-1,4-benzodioxin-7-yl]chroman-4-one
(2R,3R)-3,5,7-trihydroxy-2-[(2S,3S)-2-(4-hydroxy-3-methoxy-phenyl)-3-methylol-2,3-dihydro-1,4-benzodioxin-7-yl]chroman-4-one
(2R,3R)-3,5,7-TRIHYDROXY-2-[(2S,3S)-3-(4-HYDROXY-3-METHOXYPHENYL)-2-(HYDROXYMETHYL)-2,3-DIHYDRO-1,4-BENZODIOXIN-6-YL]-2,3-DIHYDRO-1-BENZOPYRAN-4-ONE
[142797-34-0] [RN]
1265089-69-7 [RN]
3,5,7-Trihydroxy-2-(3-(4-hydroxy-3-methoxyphenyl)- 2-(hydroxymethyl)-1,4-benzodioxan-6-yl)-4-chromanone
3,5,7-Trihydroxy-2-(3-(4-hydroxy-3-methoxyphenyl)-2-(hydroxymethyl)-1,4-benzodioxan-6-yl)-4-chromanone
308831-37-0 [RN]
4H-1-Benzopyran-4-one, 2-(2,3-dihydro-3-(4-hydroxy-3-methoxyphenyl)-2-(hydroxymethyl)-1,4-benzodioxin-6-yl)-2,3-dihydro-3,5,7-trihydroxy-, (2R-(2α,3β,6(2R,3R)))-
4H-1-Benzopyran-4-one, 2,3-dihydro-2-(2,3-dihydro-3-(4-hydroxy-3-methoxyphenyl)-2-(hydroxymethyl)-1,4-benzodioxin-6-yl)-3,5,7-trihydroxy-, (2R-(2-α,3-β,6(2R,3R)))-
4H-1-Benzopyran-4-one, 2-[(2R,3R)-2,3-dihydro-3-(4-hydroxy-3-methoxyphenyl)-2-(hydroxymethyl)-1,4-benzodioxin-6-yl]-2,3-dihydro-3,5,7-trihydroxy-, (2R,3R)- [ACD/Index Name]
7C3MT
BB_NC-1044
BSPBio_002623
EINECS 245-302-5
Flavobin
Flavobin Spofa
MEGxp0_001301
Milk thistle
Milk Thistle extract
Silibinin [INN] [Wiki]
Silibinin [INN]
Silibinina [INN-Spanish]
Silibinine [INN-French]
Silibininum [INN-Latin]
Silliver
Silybin
Silybin (7CI)
Silybine
SILYMARIN I
Silymarin Soluble
Silymarine I
SMP2_000323
SPECTRUM1505256
Spectrum5_001893
UNII:853OHH1429
UNII-4RKY41TBTF
UNII-853OHH1429
SMILES
COc1cc(ccc1O)[C@H]2[C@@H](Oc3ccc(cc3O2)[C@@H]4[C@H](C(=O)c5c(cc(cc5O4)O)O)O)CO
StdInChI
InChI=1S/C25H22O10/c1-32-17-6-11(2-4-14(17)28)24-20(10-26)33-16-5-3-12(7-18(16)34-24)25-23(31)22(30)21-15(29)8-13(27)9-19(21)35-25/h2-9,20,23-29,31H,10H2,1H3/t20-,23-,24-,25+/m0/s1
StdInChIKey
SEBFKMXJBCUCAI-WAABAYLZSA-N
Molecular Formula
C25H22O10
Molecular Weight
482.436
MDL Number
MFCD18827498
Properties
Appearance
Yellowish-brown powder
Safety Data
Personal Protective Equipment
dust mask type N95 (US), Eyeshields, Gloves
RIDADR
NONH for all modes of transport
WGK Germany
3
Specifications and Other Information of Our Silymarin flavonolignans CAS 65666-07-1
Identification Methods
HNMR, HPLC,UV
Purity
98% min, 99% min, 99.5% min
Silymarin
≥ 80.0%
Silybin & Isosilybin
≥ 30.0%
Loss on Drying
≤ 5.0%
Residue on Ignition
≤ 0.5%
Powder Size
≥ 95% through 80 mesh
Bulk Density
0.30 – 0.60 g/mL
Tapped Density
0.50 – 0.80 g/mL
Residual Acetone
≤ 5,000 μg/g
Residual Hexane
≤ 290 μg/g
Total Heavy Metals
Arsenic (As)
≤ 1.0 μg/g
Cadmium (Cd)
≤ 0.5 μg/g
Lead (Pb)
≤ 1.0 μg/g
Mercury (Hg)
≤ 0.5 μg/g
Total Plate Count
≤ 1,000 cfu/g
Molds and Yeasts
≤ 100 cfu/g
Salmonella
Absence/10g
E. Coli
Absence/10g
Staphylococcus aureus
Absence/10g
Aflatoxins
≤ 20μg/kg
Shelf Life
2 years
Availability
Have in stock in Hamburger Germany
Storage
Store in a well-closed container away from moisture, direct light and heat.
Packing
25 kg/drum, packing in paper-drums and two sealed plastic-bags inside
Known Application
It has obvious hepatoprotective effect and is suitable for acute and chronic hepatitis, early liver cirrhosis, etc.
Links
This product is developed by our R&D company Watson International Ltd (https://www.watson-int.com/).