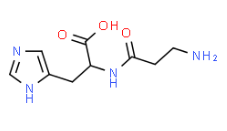 Pyruvate Kinase CAS 9001-59-6
Identification
CAS Number
9001-59-6
Name
Pyruvate Kinase
Enzyme Number
2.7.1.40
Synonyms
108333-82-0 [RN]
2-[(3-Aminopropanoyl)amino]-3-(1H-imidazol-4-yl)propanoic acid
2-[(3-Aminopropanoyl)amino]-3-(1H-imidazol-4-yl)propansäure [German]
Acide 2-[(3-aminopropanoyl)amino]-3-(1H-imidazol-4-yl)propanoïque [French]
b-Alanylhistidine
carnosine [Wiki]
CARNOSINE, D-
Histidine, β-alanyl- [ACD/Index Name]
β-Alanylhistidine
N-(3-Aminopropanoyl)histidine
β-Alanylhistidin [German] [ACD/IUPAC Name]
β-Alanylhistidine [ACD/IUPAC Name]
β-Alanylhistidine [French] [ACD/IUPAC Name]
(2S)-2-(3-aminopropanamido)-3-(1H-imidazol-5-yl)propanoic acid
03/06/9001
2-(3-AMINOPROPANAMIDO)-3-(1H-IMIDAZOL-4-YL)PROPANOIC ACID
2-(3-aminopropanamido)-3-(1H-imidazol-5-yl)propanoic acid
2-(3-AMINOPROPANAMIDO)-3-(3H-IMIDAZOL-4-YL)PROPANOIC ACID
2-(3-aminopropanoylamino)-3-(1H-imidazol-5-yl)propanoic acid
2-(3-aminopropanoylamino)-3-(3H-imidazol-4-yl)propanoic acid
2-(3-Amino-propionylamino)-3-(3H-imidazol-4-yl)-propionic acid
2-(3-azaniumylpropanoylamino)-3-(1H-imidazol-5-yl)propanoate
2,5-diamino-3-(1H-imidazol-5-yl)-4-oxohexanoic acid
305-84-0 [RN]
4-25-00-04381 [Beilstein]
5853-00-9 [RN]
7683-28-5 [RN]
8HO6PVN24W
9001-00-7 [RN]
9001-19-8 [RN]
9001-25-6 [RN]
9001-33-6 [RN]
9001-36-9 [RN]
9001-39-2 [RN]
9001-41-6 [RN]
9001-53-0 [RN]
9001-59-6 [RN]
9001-64-3 [RN]
9001-65-4 [RN]
9001-67-6 [RN]
9001-73-4 [RN]
9001-81-4 [RN]
9001-83-6 [RN]
9001-87-0 [RN]
9001-91-6 [RN]
9001-99-4 [RN]
Bromelain
Chitinase
Diastase from aspergillus oryzae
ficin, powder
Ignotine
KARNOZIN
Karnozzn
Laminarase
L-Carnosine
L-Histidine, N-β-alanyl-
L-HISTIDINE, N-β-ALANYL-
MFCD00131791
MFCD01457370
N-2-M
Papain
Papain from carica papaya
papain, powder, purified
Phosphoglucomutase
Ribonuclease
Ribonuclease A
RibonucleaseA
RNASE A
rnase a, lyophilized powder, high purity
β-alanyl-l-histidine
β-Alanyl-L-histidine
β-Glucuronidase
SMILES
c1c([nH]cn1)CC(C(=O)O)NC(=O)CCN
StdInChI
InChI=1S/C9H14N4O3/c10-2-1-8(14)13-7(9(15)16)3-6-4-11-5-12-6/h4-5,7H,1-3,10H2,(H,11,12)(H,13,14)(H,15,16)
StdInChIKey
CQOVPNPJLQNMDC-UHFFFAOYSA-N
Molecular Formula
C9H14N4O3
Molecular Weight
226.232
MDL Number
MFCD00081946
Properties
Appearance
White amorphous powder
Safety Data
RIDADR
NONH for all modes of transport
WGK Germany
3
Specifications and Other Information of Our Pyruvate Kinase CAS 9001-59-6
Source
Microorganism
Activity
≥50 U/mg
Purity
≥90%
Specific Activity
≥300U/mg
Shelf Life
2 years
Storage
Store -20°C for long time, sealed and away from light.
Known Application
Commonly used diagnostic enzymes, biochemical reactions and enzyme analysis, quantitative determination of phosphoenolpyruvate (PEP), ADP, blood sugar, triglyceride, etc. and the catalytic transphosphorization of some enzymes.
Links
This product is developed by our R&D company Watson International Ltd (https://www.watson-int.com/).