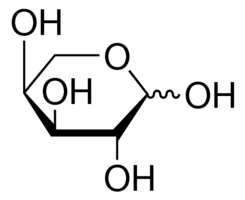 L-Arabinose CAS 5328-37-0
Identification
CAS Number
5328-37-0
Name
L-Arabinose
Synonyms
L-(+)-Arabinose
(+)-Arabinose
(2R,3S,4S)-2,3,4,5-Tétrahydroxypentanal [French]
1723085 [Beilstein]
1723086
205-699-8 [EINECS]
226-214-6 [EINECS]
3255
5328-37-0 [RN]
Arabinose [Wiki]
B40ROO395Z
L-arabino-pentose
L-Arabinose [ACD/Index Name] [ACD/IUPAC Name]
L-Arabinose [German] [ACD/Index Name] [ACD/IUPAC Name]
L-Arabinose [French] [ACD/Index Name] [ACD/IUPAC Name]
MFCD00135866 [MDL number]
(-)-Arabinose
(2R,3S,4S)-2,3,4,5-tetrahydroxypentanal
(2R,3S,4S)-2,3,4,5-tetrahydroxyvaleraldehyde
(2S,3R,4R)-2,3,4,5-tetrahydroxypentanal
(2S,3R,4R)-2,3,4,5-tetrahydroxyvaleraldehyde
(3R,4S,5S)-Tetrahydropyran-2,3,4,5-tetrol
[5328-37-0]
aldehydo-L-arabinose
1723085; 5244985
243-619-3 [EINECS]
478506-58-0 [RN]
5244985 [Beilstein]
aldehydo-D-arabino-pentose
aldehydo-D-arabinose
aldehydo-L-arabino-pentose
aldehydo-L-arabinose
Arabinose, D-
Arabinose, D- (8CI)
ARABINOSE, DL-
Arabinose, L-
Arabinose,d
Benzoic acid, 4-(aminomethyl)- (9CI)
BR-47581
CHEBI:46983
CHEBI:6182
D-(-)Arabinose
D-(-)-Arabinose
D-Arabinose (9CI)
dl-arabinose, 98+%
D-Xylose, labeled withcarbon-13 (9CI)
EINECS 233-708-5
l-(???)-arabinose
L(+) arabinose
L-(+) ARABINOSE[1-3H]
L(+)Arabinose
l-(+)-arabinose, ??? 98.0%
l???+???arabinose
LAI
L-Ara
L-Arabinose (9CI)
MFCD00067709 [MDL number]
UNII:B40ROO395Z
UNII-509X20752R
UNII-B40ROO395Z
SMILES
C([[email protected]@H]([[email protected]@H]([[email protected]](C=O)O)O)O)O
StdInChI
InChI=1S/C5H10O5/c6-1-3(8)5(10)4(9)2-7/h1,3-5,7-10H,2H2/t3-,4-,5+/m0/s1
StdInChIKey
Molecular Formula
C5H10O5
Molecular Weight
150.130
EINECS
Beilstein Registry Number
1723085
MDL Number
Properties
Appearance
White or white needle-shaped crystal
Safety Data
Personal Protective Equipment
Eyeshields, Gloves, type N95 (US), type P1 (EN143) respirator filter
RIDADR
NONH for all modes of transport
WGK Germany
3
Specifications and Other Information of Our L-Arabinose CAS 5328-37-0
Identification Methods
HNMR, HPLC
L-Arabinose content(In dry basis)
≥99%
Residue On Ignition
≤0.1%
Specific Optical Rotation
+102°~105°
Identify
Corresponds
Clarity of solution
Corresponds
Acidity
Corresponds
Loss on drying
≤1%
Storage
Under room temperature away from light
Known Application
L-arabinose is a naturally occurring isomer and is a component of plant polysaccharides. Most bacteria contain an inducible arabinose operon that encodes a series of enzymes and transporters, allowing L-arabinose to be used as the sole source of carbon in microbial cultures. L-arabinose is a commonly used food additive and can also be used in medicine and as a medium.
Links
Watson International Ltd
This product is sold exclusively through our sales company Watson International Ltd, and please click the link below for details.
http://www.watson-int.com/l-arabinose-cas-5328-37-0/