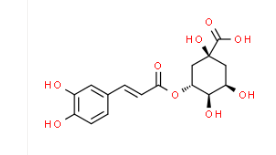 Chlorogenic acid CAS 327-97-9
Identification
CAS Number
327-97-9
Name
Chlorogenic acid
Synonyms
(1S,3R,4R,5R)-3-[(E)-3-(3,4-DIHYDROXY-PHENYL)-ACRYLOYLOXY]-1,4,5-TRIHYDROXY-CYCLOHEXANECARBOXYLIC ACID
(1S,3R,4R,5R)-3-[3-(3,4-dihydroxyphenyl)prop-2-enoyloxy]-1,4,5-trihydroxycyclohexanecarboxylic acid
(1S,3R,4R,5R)-3-{[(2E)-3-(3,4-Dihydroxyphenyl)-2-propenoyl]oxy}-1,4,5-trihydroxycyclohexancarbonsäure [German] [ACD/IUPAC Name]
(1S,3R,4R,5R)-3-{[(2E)-3-(3,4-Dihydroxyphenyl)-2-propenoyl]oxy}-1,4,5-trihydroxycyclohexanecarboxylic acid [ACD/IUPAC Name]
(1S,3R,4R,5R)-3-{[(2E)-3-(3,4-Dihydroxyphenyl)prop-2-enoyl]oxy}-1,4,5-trihydroxycyclohexanecarboxylic acid
202650-88-2 [RN]
206-325-6 [EINECS]
3-(3,4-Dihydroxycinnamoyl)quinic acid
327-97-9 [RN]
3-O-Caffeoylquinic acid
3-trans-Caffeoylquinic acid
Acide (1S,3R,4R,5R)-3-{[(2E)-3-(3,4-dihydroxyphényl)-2-propènan-1-oyl]oxy}-1,4,5-trihydroxycyclohexanecarboxylique [French]
Acide (1S,3R,4R,5R)-3-{[(2E)-3-(3,4-dihydroxyphényl)-2-propenoyl]oxy}-1,4,5-trihydroxycyclohexanecarboxylique [French] [ACD/IUPAC Name]
Acide chlorogénique [French]
Acido clorogenico [Italian]
CGA
Chlorogenate
Chlorogenic acid [Wiki]
Chlorogenic acid (8CI)
Cyclohexanecarboxylic acid, 3-[[(2E)-3-(3,4-dihydroxyphenyl)-1-oxo-2-propen-1-yl]oxy]-1,4,5-trihydroxy-, (1S,3R,4R,5R)- [ACD/Index Name]
GU8480000
Heriguard
MFCD00003862 [MDL number]
Quinic acid, 3-caffeoyl-, E-
Хлорогеновая кислота [Russian]
クロロゲン酸 [Japanese]
(1S,3R,4R,5R)-3-(((E)-3-(3,4-dihydroxyphenyl)acryloyl)oxy)-1,4,5-trihydroxycyclohexane-1-carboxylic acid
(1S,3R,4R,5R)-3-(((E)-3-(3,4-dihydroxyphenyl)acryloyl)oxy)-1,4,5-trihydroxycyclohexanecarboxylic acid
(1S,3R,4R,5R)-3-[(E)-3-(3,4-dihydroxyphenyl)-1-oxoprop-2-enoxy]-1,4,5-trihydroxy-1-cyclohexanecarboxylic acid
(1S,3R,4R,5R)-3-[(E)-3-(3,4-dihydroxyphenyl)acryloyl]oxy-1,4,5-trihydroxy-cyclohexane-1-carboxylic acid
(1S,3R,4R,5R)-3-[(E)-3-(3,4-dihydroxyphenyl)prop-2-enoyl]oxy-1,4,5-trihydroxycyclohexane-1-carboxylic acid
(1S,3R,4R,5R)-3-[(E)-3-(3,4-dihydroxyphenyl)prop-2-enoyl]oxy-1,4,5-trihydroxy-cyclohexane-1-carboxylic acid
(1S,3R,4R,5R)-3-[(E)-3-(3,4-dihydroxyphenyl)prop-2-enoyl]oxy-1,4,5-trihydroxy-cyclohexanecarboxylic acid
(1S,3R,4R,5R)-3-[3-(3,4-dihydroxyphenyl)-1-oxoprop-2-enoxy]-1,4,5-trihydroxy-1-cyclohexanecarboxylic acid
(1S,3R,4R,5R)-3-[3-(3,4-dihydroxyphenyl)acryloyl]oxy-1,4,5-trihydroxy-cyclohexane-1-carboxylic acid
(1S,3R,4R,5R)-3-[3-(3,4-dihydroxyphenyl)prop-2-enoyloxy]-1,4,5-trihydroxycyclohexane-1-carboxylic acid
(1S,3R,4R,5R)-3-[3-(3,4-dihydroxyphenyl)prop-2-enoyloxy]-1,4,5-trihydroxy-cyclohexane-1-carboxylic acid
(1S,3R,4R,5R)-3-{[(2E)-3-(3,4-dihydroxyphenyl)prop-2-enoyl]oxy}-1,4,5-trihydroxycyclohexane-1-carboxylic acid
[1S-(1α,3β,4α,5α)]3-[[3-(3,4-dihydroxyphenyl)-1-oxo-2-propenyl]oxy]-1,4,5-trihydroxycyclohexanecarboxylic acid
[1S-(1α,3β,4α,5α)]-3-[[3-(3,4-Dihydroxyphenyl)-1-oxo-2-propenyl]oxy]-1,4,5-trihydroxycyclohexanecarboxylic acid
[327-97-9]
1,4,5-Trihydroxycyclohexanecarboxylic acid 3-(3,4-dihydroxycinnamate)
327-97-9 202650-88-2
327-97-9??
3-CAFFEOYLQUINIC ACID
3-O-(3,4-Dihydroxycinnamoyl)-D-quinic acid
3-O-Caffeoylquinic acid;Heriguard;NSC-407296
3R-?[[3-?(3,?4-?DIHYDROXYPHENYL)-?1-?OXO-?2-?PROPENYL]OXY]-?1S,?4R,?5R-?TRIHYDROXY-?CYCLOHEXANECARBOXYLIC ACID
3R-[[3-(3,4-dihydroxyphenyl)-1-oxo-2-propenyl]oxy]-1S,4R,5R-trihydroxy-cyclohexanecarboxylic acid
5-Caffeoylquinic acid
82659-69-6 [RN]
ACon1_000581
BB_NC-1939
BPBio1_000456
BSPBio_000414
BSPBio_003353
Caffeoyl quinic acid
Caffetannic acid
Chlorogenic acid, Chiral
Chlorogenic?acid
cyclohexanecarboxylic acid, 3-[[(2E)-3-(3,4-dihydroxyphenyl)-1-oxo-2-propenyl]oxy]-1,4,5-trihydroxy-, (1S,3R,4R,5R)-
Cyclohexanecarboxylic acid, 3-[[3-(3,4-dihydroxyphenyl)-1-oxo-2-propenyl]oxy]-1,4,5-trihydroxy-, [1S-(1α,3β,4α,5α)]-
edit(1S,3R,4R,5R)-3-{[(2E)-3-(3,4-dihydroxyphenyl)prop-2-enoyl]oxy}-1,4,5-trihydroxycyclohexane-1-carboxylic acid
EINECS 206-325-6
Honeysuckle Flower Extract
Hoodia Chinese Extract
InChI=1S/C16H18O9/c17-9-3-1-8(5-10(9)18)2-4-13(20)25-12-7-16(24,15(22)23)6-11(19)14(12)21/h1-5,11-12,14,17-19,21,24H,6-7H2,(H,22,23)/b4-2+/t11-,12-,14-,16+/m1/s1
NSC-407296
Prestwick2_000427
Prestwick3_000427
QA-8481
SMP1_000066
SPECTRUM210800
Spectrum5_000733
SMILES
c1cc(c(cc1/C=C/C(=O)O[[email protected]@H]2C[[email protected]@](C[[email protected]]([[email protected]]2O)O)(C(=O)O)O)O)O
StdInChI
InChI=1S/C16H18O9/c17-9-3-1-8(5-10(9)18)2-4-13(20)25-12-7-16(24,15(22)23)6-11(19)14(12)21/h1-5,11-12,14,17-19,21,24H,6-7H2,(H,22,23)/b4-2+/t11-,12-,14-,16+/m1/s1
StdInChIKey
CWVRJTMFETXNAD-JUHZACGLSA-N
Molecular Formula
C16H18O9
Molecular Weight
354.309
EINECS
206-325-6
MDL Number
MFCD00003862
Properties
Appearance
Brown Powder
Melting Point
210 °C (dec.) (lit.)
Safety Data
Personal Protective Equipment
Eyeshields, Gloves, type N95 (US), type P1 (EN143) respirator filter
RIDADR
NONH for all modes of transport
WGK Germany
3
Specifications and Other Information of Our Chlorogenic acid CAS 327-97-9
Identification Methods
HPLC
Caffeine
≤2.0%
Total chlorogenic acid
≥50.0%
Particle Size
Pass 80 mesh : ≥90.0%
Loss on drying
≤5.0%
Ash
≤5.0%
Heavy metal
≤10ppm
Pb
≤0.5ppm
As
≤0.3ppm
Hg
≤0.1ppm
Cd
≤1.0ppm
Total Plate Count
≤1000 cfu/g
Yeast&Mold
≤100 cfu/g
E.Coil
Negative
Salmonella
Negative
Shelf Life
2 years
Storage
Store incool & dry place; Keep away from strong and hear
Known Application
It has a wide range of antibacterial effects, has liver and choleretic effects, stops bleeding, increases white blood cells and anti-viral effects, and has the effect of shortening blood clotting and bleeding time. It is used for the treatment of upper respiratory tract infections, anti-inflammatory and antipyretic, cooling blood cooling and antimutagenicity.
Links
Watson International Ltd
This product is sold exclusively through our sales company Watson International Ltd, and please click the link below for details.
http://www.watson-int.com/chlorogenic-acid-cas-327-97-9/