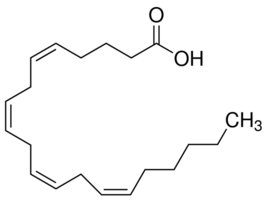 Arachidonicacid CAS 506-32-1
Identification
CAS Number
506-32-1
Name
Arachidonicacid
Synonyms
(5Z,8Z,11Z,14Z)-5,8,11,14-Eicosatetraenoic acid
(5Z,8Z,11Z,14Z)-5,8,11,14-Icosatetraenoic acid [ACD/IUPAC Name]
(5Z,8Z,11Z,14Z)-5,8,11,14-Icosatetraensäure [German] [ACD/IUPAC Name]
(5Z,8Z,11Z,14Z)-Icosa-5,8,11,14-tetraenoic acid
(all-Z)-5,8,11,14-Eicosatetraenoic acid
1713889
208-033-4 [EINECS]
27YG812J1I
5,8,11,14-all-cis-Eicosatetraenoic acid
5,8,11,14-Eicosatetraenoic acid, (5Z,8Z,11Z,14Z)- [ACD/Index Name]
5,8,11,14-Eicosatetraenoic acid, (all-Z)-
506-32-1 [RN]
AA
Acide (5Z,8Z,11Z,14Z)-5,8,11,14-icosatétraénoïque [French] [ACD/IUPAC Name]
ARA
Arachidonic acid [Wiki]
CE6675000
cis,cis,cis,cis-5,8,11,14-Eicosatetraenoic acid
Eicosa-5Z,8Z,11Z,14Z-tetraenoic acid
MFCD00004417 [MDL number]
UNII:27YG812J1I
5,8,11,14-Eicosatetraenoic acid [ACD/Index Name]
5-cis,8-cis,11-cis,14-cis-Eicosatetraenoic acid
(5Z,8Z,11Z,14Z)-eicosa-5,8,11,14-tetraenoate
(5Z,8Z,11Z,14Z)-eicosa-5,8,11,14-tetraenoic acid
(5Z,8Z,11Z,14Z)-Eicosatetraenoic acid
(5Z,8Z,11Z,14Z)icosa-5,8,11,14-tetraenoic acid
(5Z,8Z,11Z,14Z)-Icosatetraenoic acid
(all-Z)-5,8,11,14-Eicosatetraenoate
[506-32-1]
cis,cis,cis,cis-5,8,11,14-Eicosatetraenoic Acid
1913991 [Beilstein]
5,8,11,14-All-cis-Eicosatetraenoate
5,8,11,14-Eicosatetraenoate
5,8,11,14-Icosatetraenoic acid [ACD/IUPAC Name]
5-cis,8-cis,11-cis,14-cis-Eicosatetraenoate
5Z,​8Z,​11Z,​14Z-​eicosatetraenoic acid
5Z,8Z,11Z,14Z-Eicosatetraenoate
5Z,8Z,11Z,14Z-Eicosatetraenoic acid
5Z,8Z,11Z,14Z-icosatetraenoic acid
5Z,​8Z,​11Z,​14Z-​eicosatetraenoic acid
AB3
ACD
All-cis-5,8,11,14-Eicosatetraenoate
Arachidonic Acid (20:4, n-6)
ARACHIDONIC ACID (5c,8c,11c,14c)
Arachidonic Acid (peroxide free)|5Z,8Z,11Z,14Z-eicosatetraenoic acid
Arachidonic Acid MaxSpec® Standard
Arachidonic Acid MaxSpec® Standard|5Z,8Z,11Z,14Z-eicosatetraenoic acid
Arachidonic acid, 10%
Arachidonic Acid|5Z,8Z,11Z,14Z-eicosatetraenoic acid
Arachidonsaeure
BMDB
BSPBio_001539
C20:4
C20:4n-6
cis-5,8,11,14-Eicosatetraenoic acid
cis-D5,8,11,14-Eicosatetraenoate
cis-δ(5,8,11,14)-eicosatetraenoic acid
hmdb
http://www.hmdb.ca/metabolites/HMDB0001043
Icosa-5,8,11,14-tetraenoic acid
IDI1_034009
NCGC00094608-01
NCGC00094608-02
NCGC00094608-03
NCGC00094608-04
Spectrum5_001910
ST069383
UNII-27YG812J1I
花生四烯酸 [Chinese]
SMILES
CCCCC/C=C\C/C=C\C/C=C\C/C=C\CCCC(=O)O
StdInChI
InChI=1S/C20H32O2/c1-2-3-4-5-6-7-8-9-10-11-12-13-14-15-16-17-18-19-20(21)22/h6-7,9-10,12-13,15-16H,2-5,8,11,14,17-19H2,1H3,(H,21,22)/b7-6-,10-9-,13-12-,16-15-
StdInChIKey
YZXBAPSDXZZRGB-DOFZRALJSA-N
Molecular Formula
C20H32O2
Molecular Weight
304.467
EINECS
208-033-4
Beilstein Registry Number
1713889
MDL Number
MFCD00004417
Properties
Appearance
Colorless to light yellow
Melting Point
−49 °C (lit.)
Safety Data
Personal Protective Equipment
Eyeshields, Faceshields, Gloves, half-mask respirator (US), multi-purpose combination respirator cartridge (US)
RIDADR
NONH for all modes of transport
WGK Germany
3
RTECS
CE6675000
Specifications and Other Information of Our Arachidonicacid CAS 506-32-1
Potency
10%;40%
Storage
Store at -20℃.
Known Application
It is often used as a nutrient enhancer and a raw material for the synthesis of prostaglandins It regulates the permeability of human cell membranes; it is important for the development of the brain and nerves of infants and the development of the optic nerve system; it also plays an important role in the treatment of coronary heart disease, diabetes and prevention of diseases such as cerebrovascular disease.
Links
Watson International Ltd
This product is sold exclusively through our sales company Watson International Ltd, and please click the link below for details.
http://www.watson-int.com/vitamin-a-acetate-cas-127-47-9/