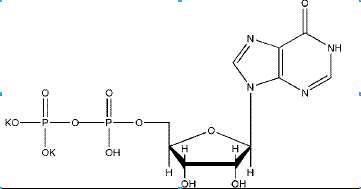 Inosine 5′-diphosphate dipotassium salt CAS NNA-0001
CAS Number(Or Ulcho Number for Non-CAS Products): NNA-0001
Product Name: Inosine 5′-diphosphate dipotassium salt
Synonyms: 5′-IDP,2K; IDP- K2;
5′- Inosine diphosphatedipotassium salt
Molecule Formula: C10H12O11N4P2K2
Molecule Weight: 504.2
EINECS:
Appearance: White to off-white powder
Solubility: Freely soluble in water,very slightly soluble in ethanol, chloroform and ether.
IR: Under the condition of PH2.0,A250/A260 =1.45 – 1.55; A280/A260 =0.18 – 0.22;Lambda max=249 nm+-1nm.
Purity: 90%,95%
Use: This product belongs to the nucleotide products,and can be used as biochemical
reagent and intermediate for the production nucleotide drugs.And it can be used for
the production of PolyI,PolyI:C and oligonucleotides, etc.
Package: 3kg,5kg
Storage: Preserve in tight,light-resistant containers,in a freezing place.