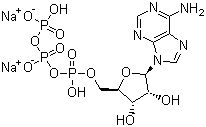 Adenosine 5′-triphosphate disodium salt CAS 987-65-5
CAS Number(Or Ulcho Number for Non-CAS Products): 987-65-5
Product Name: Adenosine 5′-triphosphate disodium salt
Synonyms: 5′-IDP,2K; IDP- K2;
5′- Inosine diphosphatedipotassium salt
Molecule Formula: C10H14N5Na2O13P3
Molecule Weight: 551.15
EINECS:
Appearance: White to off-white powder
or crystalline powder
Solubility: Freely soluble in water, insoluble in ethanol,chloroform and ether.
IR: Under the condition of PH2.0,A250/A260 =0.79-0.89; A280/A260=0.17-0.27; Lambda max=257nm+-1nm.
Purity: 95%,98%
Use: 1. This product can be used as a coenzyme. Improve the
body metabolism, involved in the metabolism of fat, protein, sugar, nucleic acids
and nucleotides.Being suitable for Suitable the diseases caused by cell damage after
loss cellular enzymes.Clinically used this diseases due to tissue damage, cellular
enzyme activity decreased.Such as heart failure, myocarditis, myocardial infarction,
cerebral arteriosclerosis, coronary artery disease, progressive muscular atrophy,
cerebral bleeding complications, acute and chronic hepatitis, cirrhosis, and hearing
disorders.
2. This product is also used as
an energy supply agents, therapeutic agents to improve liver function
3. This product is one
of the nucleotide products that can be used as biochemical reagent and
intermediate in the production of nucleotide drugs. Can be used for the synthesis of
S-adenosylmethionine, creatine phosphate, coenzyme I, oligonucleotides, etc..
Package: 15kg
Storage: Preserve in tight,light-resistant containers,in a cool and dry
place.