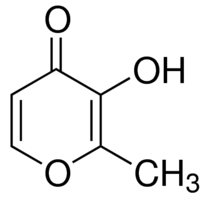 3-Hydroxy-2-methyl-4-pyrone CAS 118-71-8
Identification
CAS Number
118-71-8
Name
3-Hydroxy-2-methyl-4-pyrone
FEMA
2656
Synonyms
118-71-8 [RN]
204-271-8 [EINECS]
2656
2-Methyl pyromeconic acid
2-Methyl-3-hydroxypyrone
3-Hydroxy-2-methyl-4H-pyran-4-on [German] [ACD/IUPAC Name]
3-Hydroxy-2-methyl-4H-pyran-4-one [ACD/IUPAC Name]
3-Hydroxy-2-méthyl-4H-pyran-4-one [French] [ACD/IUPAC Name]
3-hydroxy-2-methyl-4-pyrone
3-Hydroxy-2-methyl-g-pyrone
3-Hydroxy-2-methyl-γ-pyrone
4H-Pyran-4-one, 3-hydroxy-2-methyl- [ACD/Index Name]
5-18-01-00114 [Beilstein]
Larixinic acid
Maltol [Wiki]
MFCD00006578 [MDL number]
UQ1050000
132331-92-1 [RN]
2-methyl-3-hydroxy-4H-pyran-4-one
2-methyl-3-hydroxy-4H-pyran-4-one
2-Methyl-3-hydroxy-4-pyranone
2-Methyl-3-hydroxy-4-pyrone
2-methyl-3-oxidanyl-pyran-4-one
2-Methyl-3-oxy-γ-pyrone
2-Methyl-3-oxy-γ-pyrone
2-Methylpyromeconic acid
3-Hydroxy-2-methyl-1,4-pyrone
3-Hydroxy-2-methyl-4-oxo-4H-pyran
3-Hydroxy-2-methyl-4-pyranone
3-hydroxy-2-methyl-4-pyrone, 99%
3-hydroxy-2-methylpyran-4-one
3-Hydroxy-2-methyl-pyran-4-one
3-Hydroxy-2-methylpyrone
3-Hydroxy-2-methyl-γ-pyrone
3-Hydroxy-2-pyran-4-one
carbone
http:////www.amadischem.com/proen/569703/
http://www.hmdb.ca/metabolites/HMDB0030776
Laricinic acid
Larixic acid
larixinic acid 99%
Maltol (3-Hydroxy-2-methyl-4-pyrone)
Maltol FCC IV
Maltol|3-Hydroxy-2-methyl-4-pyrone
Maltol204-271-8MFCD00006578
Maltol-d3
Methylmaltol
Octan-2-yl 2-cyanoacrylate
Palatone
PS-4578
T6O DVJ B1 CQ [WLN]
Veltol
Vetol
麦芽酚 [Chinese]
SMILES
Cc1c(c(=O)cco1)O
StdInChI
InChI=1S/C6H6O3/c1-4-6(8)5(7)2-3-9-4/h2-3,8H,1H3
StdInChIKey
XPCTZQVDEJYUGT-UHFFFAOYSA-N
Molecular Formula
C6H6O3
Molecular Weight
126.11
EINECS
204-271-8
Beilstein Registry Number
112169
MDL Number
MFCD00006578
Properties
Appearance
White to slightly yellow needle-like crystals or crystalline powder
Melting Point
160-164 °C
Safety Data
Symbol

GHS07
Signal Word
Warning
Hazard statements
H302
Precautionary Statements
P264 – P270 – P301 + P312 – P501
Personal Protective Equipment
dust mask type N95 (US), Eyeshields, Gloves
RIDADR
NONH for all modes of transport
WGK Germany
2
Specifications and Other Information of Our 3-Hydroxy-2-methyl-4-pyrone CAS 118-71-8
Identification Methods
HPLC
Purity
99.5% min
Shelf Life
3 years
Storage
Store in a cool and dry place (below 33°C) sealed and stored
Known Application
This product is a broad-spectrum fragrance synergist with the effects of enhancing, solidifying, and sweetening. It can be used to formulate edible flavors, tobacco flavors, cosmetic flavors, etc., and is widely used in food, beverages, meat products, tobacco, etc. Brewing, pharmaceutical and other industries.
Links
Watson International Ltd
This product is sold exclusively through our sales company Watson International Ltd, and please click the link below for details.
http://www.watson-int.com/3-hydroxy-2-methyl-4-pyrone-cas-118-71-8/