2,5-Furandicarboxylic acid CAS 3238-40-2
Identification
CAS Number
3238-40-2
Name
2,5-Furandicarboxylic acid
Synonyms
Furan-2,5-dicarboxylic acid
FDCA
Molecular Structure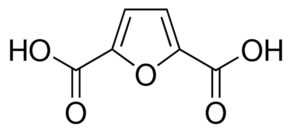 SMILES
O=C(O)c1oc(C(=O)O)cc1
StnInChI
InChI=1S/C6H4O5/c7-5(8)3-1-2-4(11-3)6(9)10/h1-2H,(H,7,8)(H,9,10)
StdInChIKey
CHTHALBTIRVDBM-UHFFFAOYSA-N
EINECS Number
221-800-8
MDL Number
MFCD00016582
Molecular Formula
C6H4O5
Molecular Weight
156.09
Properties
Appearance
Ultra-white powder
Melting Point
>300 °C
Flash Point
207.324 °C
Boiling Point
419.199 °C at 760 mmHg
Density
1.604 g/ml
Safety Data
Symbol
GHS07
Signal Word
Warning
Hazard Statements
Precautionary Statements
Hazard Codes (Europe)
Risk Statements (Europe)
Safety Statements (Europe)
26-36/37
WGK Germany
3
Specifications and Other Information of our 2,5-Furandicarboxylic acid CAS 3238-40-2
Purity
98%min; 99%min(HPLC)
Identification Method
HNMR, CNMR, IR, HPLC
Shelf life
3 years
Storage
Store at room temperature,sealed and away from light.
General View of Documents
Use
2,5-Furandicarboxylic acid CAS 3238-40-2 has a large potential as a replacement for terephthalic acid, a widely used component in various polyesters, such as polyethylene terephthalate (PET) and polybutyleneterephthalate (PBT). PET has a market size approaching 4 billion lb/yr, and PBT is almost a billion lb/yr. The market value of PET polymers varies depending on the application, but is in the range of $1.00 – 3.00/lb for uses as films and thermoplastic engineering polymers. The versatility of FDCA is also seen in the number of derivatives available via relatively simple chemical transformations. Selective reduction can lead to partially hydrogenated products,such as 2,5-dihydroxymethylfuran, and fully hydrogenated materials, such as 2,5-bis(hydroxymethyl)tetrahydrofuran. Both of these latter materials can serve as alcohol components in the production of new polyester, and their combination with FDCA would lead to a new family of completely biomass-derived products. Extension of these concepts to the production of new nylons, either through reaction of FDCA with diamines, or through the conversion of FDCA to 2,5-bis(aminomethyl)tetrahydrofuran could address a market of almost 9 billion lb/yr, with product values between $0.85 and 2.20/lb, depending on the application. FDCA can also serve as a starting material for the production of succinic acid, whose utility is elsewhere.
Watson International Ltd Link
This product is exlusively sold through our sales company Watson International Ltd and please refer the link below for inquiries
http://watson-int.com/2-5-furandicarboxylic-acid-cas-3238-40-2/