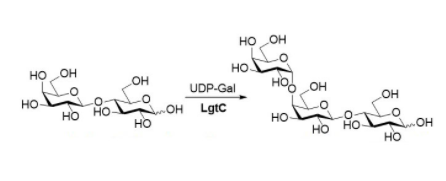 α1,4-galactosyltransferase CAS UENA-0210
Identification
CAS Number
UENA-0210
Name
α1,4-galactosyltransferase
Synonyms
LgtC
E.C.
2.4.1.228
Properties
Appearance
Powder or solid
Safety Data
WGK Germany
3
Specifications and Other Information of Our α1,4-galactosyltransferase CAS UENA-0210
Description
E. coli recombinant α1,4-galactosyltransferase from Neisseria meningitides
Unit Definition
One unit is defined as the amount of enzyme that catalyzes the formation of 1 umol of Galα1,4Lac from UDP-Gal and Lactose per minute at 37 °C.
Package
1U/5U/25U
Known Application
Commonly used as a sugar tool enzyme.
Links
This product is developed by our R&D company Watson International Ltd (https://www.watson-int.com/).